MIATA ROLL BAR KIT
PART # CSC 2000




* due to ongoing price fluctuations of raw materials, please call or email for pricing
CALL TO ORDER 905-685-7223 (OPTION #1) IN CANADA
                         716-285-7502 IN USA
OR EMAIL administrator@bicknellracingproducts.com
This roll bar is complete and ready for installation. It includes all hardware and there is a set of installation photos that can be emailed to you after you take delivery of the bar.
It comes standard as a double diagonal behind the driver but you can change that to a single if you prefer. It works with both hard top and soft.
This bar is supplied unpainted. If the bar is being picked up, we have a local powder coater that we work with and the price for powder coating is $200.
Compatible with 1989 - 2005 first and second generation MIATA.
The bar can be picked up at our facility or for an additional charge can be shipped to a business address or the nearest terminal for pickup from coast to coast.
CSC MIATA ROLL BAR ON THE ROAD: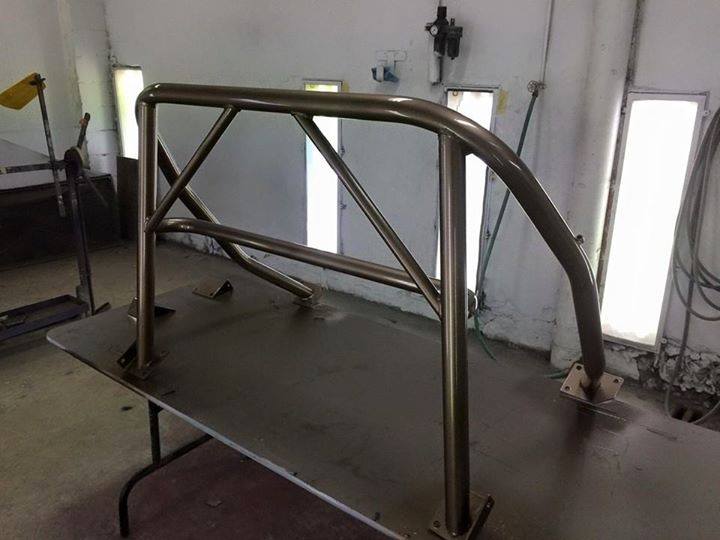 ---
Nothing really tells the story of a product better than recomendations from previous customers. The following are exactly that!

---

---

----- Original Message -----
From: boggycreek Manitoba.com
To: ralph @cscracing.com
Subject: Miata Rollbar Pics
 
Hi Ralph
Here are some photos of the rollbar,Doug @ Benito Service Center said you were very helpful with advice over phone he did a real nice clean job of install as you did with manufacturing bar we are very happy with end result I will be sure to mention your name to anyone looking for a rollbar .Thank You again for your prompt friendly service.
Armand
Ontrack flip and a shot after it's returned to its wheels
CSC Racing Products has been manufacturing and installing Road Racing Cages for ASN-FIA, CASC, SCCA and CARS sanctioned events for many years. We can prep any vehicle for a roll cage or roll bar. Some we require the vehicle for the installation, others we build from existing jigs. The Miata happens to be an item we build from jig regularly as a roll bar or a full cage.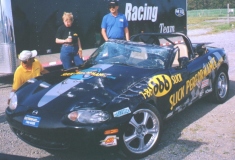 The flip featured above happened at a SOLO I event at Shannonville Speedway in June, 2001. The SOLO Event Report said this,
"[the] Miata entered the turn too fast...the car was flipped over...the driver...had a minor scrape injury...the [car] driver's side of the windshield collapsed, and the [CSC Racing Products] roll bar had a hard scrape at the point over the driver's head".
Once again, when it comes to safety...we are the experts!
---
---
and this note from Jeff:
I recently installed a CSC rollbar in my Miata, for track days and autoX events. I thought you might like another picture for your website. I've already had a couple of inquiries about where I got the bar from. I'm very happy with the bar - very sturdy, and well constructed!
As usual, a picture and our customers words usually say it best.
---
---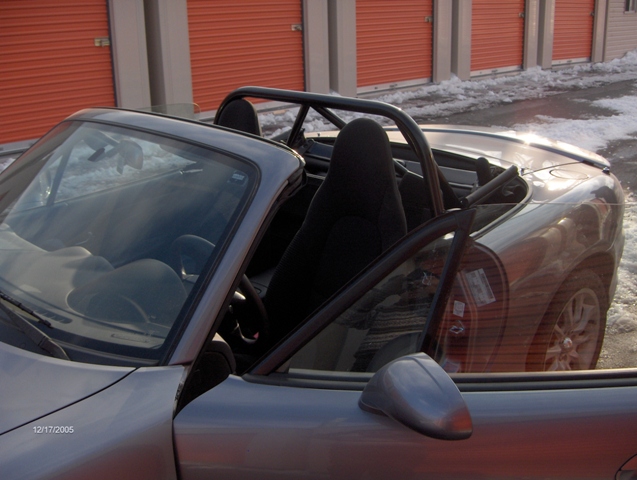 ---
---
FREQUENTLY ASKED QUESTIONS AND ANSWERS:
Q. Does your bar allow full movement of the seats? I'm tall and I need every last
​     centimeter of seat travel and recline adjustment.
A. There is a slight restriction in rearward movement as the main hoop mounting
     position is on the floor behind the seat, the recline is not restricted by the bar
 
Q. Does your roll bar bolt in?
A. yes, it is entirely bolt in and works with all models. All you will have to cut is
​     the carpet and a little bit of the back partial shelf to allow the rear diagonal
     bars to run into the trunk area.
 
Q. With your bar, can I still put the convertible top up with no problems?
A. yes the bar allows full movement of soft top and also allows use of a hard top
 

Q. What is the height of the roll bar?

A. The overall height of the bar from floor to top of roll bar is 39"


 
Q. Installed properly, will your bar pass SCCA tech?
A. the bar is a four point with a lateral brace and harness bar. The main hoop and
​    rear diagonals are DOM material, diameter of 1.75" wall thickness .120 - the
    lateral brace and harness bar are DOM material 1.50" diameter wall thickness of
​    .120, plates are 3/16" thick a minimum of 20 square inches and the bolt in hardware
    is grade- 8 7/16" diameter three bolts per plate at main hoop and 4 per plate at rear
​    diagonals. You will need to check your SCCA spec against the description provided to
    determine compliance.